Are you familiar with pink gold? Perhaps you are laughing at my question, however many people do not know that pink gold is an option. In fact, it does exist, but not in a natural form, for just like white gold the color is achieved by adding alloys to change the color. Because the only color of gold that came out of the Klondike gold rush, was indeed yellow.
Pure gold is titled at 24 karats, however 24k gold is too soft to make solid jewellery with. To fully understand where rose gold comes from, it is important to understand that all jewellery, whether it is made of yellow gold, white gold or even red gold (yes!), they all contain other metals in varying proportions. These mixtures are called gold alloys and depending on the title of your jewellery – 10k, 14k or 18k - the quantity of these metals varies. An 18 karat pink gold ring is made of 75% pure gold and 25% of other metals. In other words 18 parts of pure gold on 24. If you have an 10k piece of jewellery, that means that there are 10 parts on 24 parts of pure gold (24k) and the rest are alloys, thereby the alloys outweigh the gold. The term Karat refers to the pureness of the gold while when we say .75 carat diamond (with a c) that is referring to the weight of the diamond. These measurements are sometimes confusing. 
In the case of pink gold, copper and silver metals are added to obtain the pink colour. Thanks to this addition, it is given greater resistance and gold, a biocompatible metal due to its great chemical inertia, compensates for the oxidation of the other metals. Pink gold is one of the precious metals that oxidize the least and is difficult to scratch. It is the best of both worlds, after all! To learn more about gold and its carat, please refer to this very informative text.
The pink gold diamond ring 💍
Pink gold is said to be romantic and feminine. Having said that, more and more men are using pink gold jewellery. In addition, it is suitable for all skin tones. Add diamonds or any other precious stones to it and you get a stunning result.Engagement rings in14 karat pink gold have been gaining in popularity for several years now because the pink colour is well balanced and the jewellery is resistant to everyday activities. 

If you like saturated colours and your budget is limited, you will surely be happy to know that 10-carat pink gold tends to dark pink due to a greater amount of copper in the alloy. Unlike yellow gold, which becomes richer as the amount of gold increases, pink gold has a softer pink colour. The only downside to this equation is that a higher presence of copper in the alloy could cause an allergic reaction.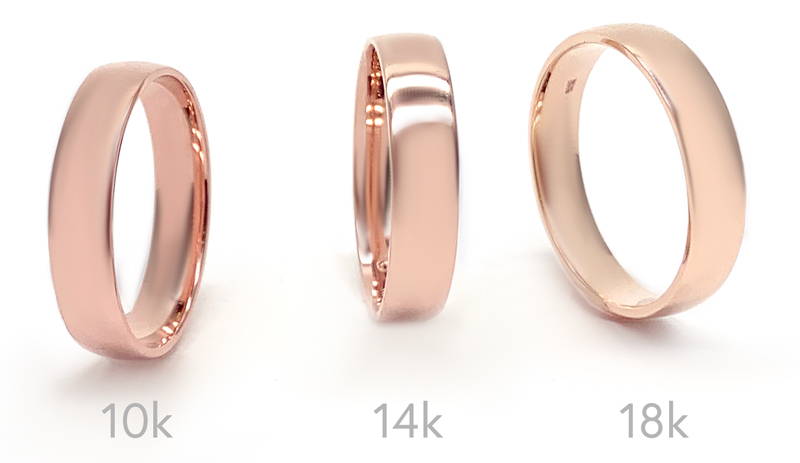 Here is a table that gives an overview of the composition of pink gold according to its titration.
The proportions may vary slightly from one casting specialist to another.
Proportion of metals according to pink gold titration  
Proportion of metals according to pink gold titration  
A brief history of pink gold jewellery 🇳🇱
The story goes that the jeweller Pierre-Karl Fabergé from St. Petersburg was the first to introduce rose gold into these famous eggs designed for the Russian royal family. Was this gold alloy created by accident to solidify his masterpieces or was he really looking for a new shade of gold? The fact remains that the popularity of pink gold, once called Russian gold, quickly crossed borders and reached its peak in the 1920s, thanks in particular to Cartier's "Trinity ring". Later abandoned in favour of platinum, 18-carat pink gold jewellery regained its popularity after the Second World War, while platinum, used massively in the war effort, became scarcer and much more expensive.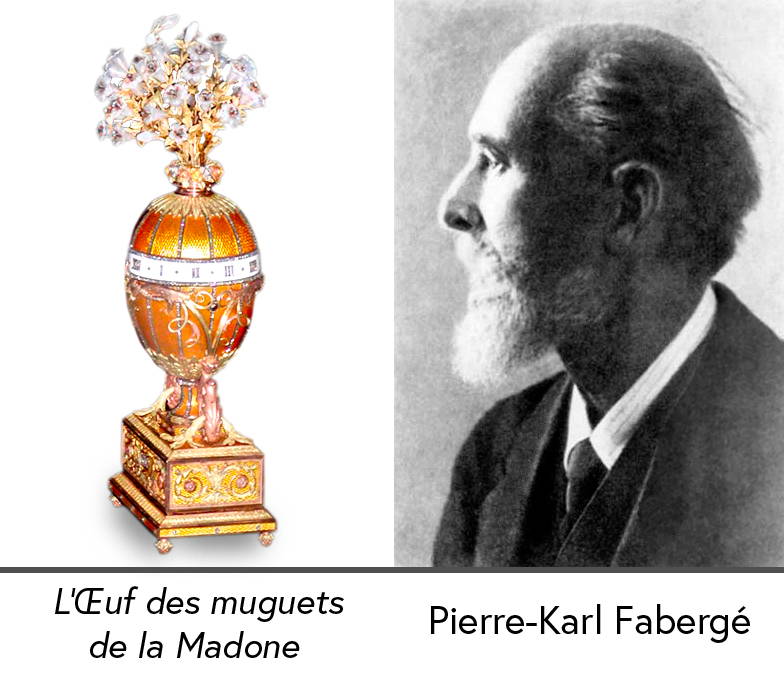 The price of pink gold jewellery and its processing 💲
On the one hand, if someone tries to sell you 24-karat pink gold, it just doesn't exist. You are advised to change your address. As explained earlier, pink gold is an alloy containing pure gold, copper and silver. Pink gold is sold at the same price as white and yellow gold. Only gold titration varies the price. The higher the number of carats, the purer the gold, the more expensive it is. Specializing in jewelry processing, we often refine our customers' precious metals and recreate new alloys for their new rose gold jewelry. Our engagement rings and wedding rings in rose gold for women or men are made of recycled gold and are all handcrafted. Pink gold is here to stay. Let yourself be tempted by its originality, softness and poetry.