Our jewellery repair services, transformations and custom creations
Many of us own jewellery that we no longer wear anymore. Some pieces are out of style, some piece no longer fit, and some might need a simple repair. Flamme en rose can give a new life to pieces of jewellery with an old soul. They can modify an existing jewel, or they can completely transform it into something entirely new! Their mission is to utilize the forgotten jewellery and the memories that come with them.
The transformation of jewellery (called upcycling) has become a true passion for the Flamme en rose team. In order to meet the growing demands of their customers, Flamme en rose has developed an incomparable expertise in jewellery transformation. Two things are essential when upcycling: the capacity to understand the client's desires and secondly, a very developed technical skill level. This service is unique, since it can only be offered by a master jewellers with an eye for design. With many years of experience, Flamme en rose has become renowned in Quebec for their upcycling. Most jewellers will only offer to exchange your jewellery for cash. At Flamme en rose they offer you the opportunity to transform your old pieces into brand new ones.
Isn't it great to be able to wear a piece of jewellery that has been made just for you? For the team at Flamme en rose, every customer is treated with care, with the same attention no matter how much jewellery is being created. Whether it's a bespoke diamond-studded engagement ring or a bespoke sterling silver pendant, the jewellers at Flamme en rose want to meet you and discuss the plans you have in mind.
Master jewellers and design experts, the team at Flamme en rose is there to make all your wishes come true. Whether it is from an idea, a drawing or a photo, our designer will look at all the possibilities with you according to your budget. The creation of custom-made jewellery is an exciting part of our job because it allows us to establish a creative link with the client.
Feel free to call, write or make an appointment, the meetings and estimates are free of charge and without obligation.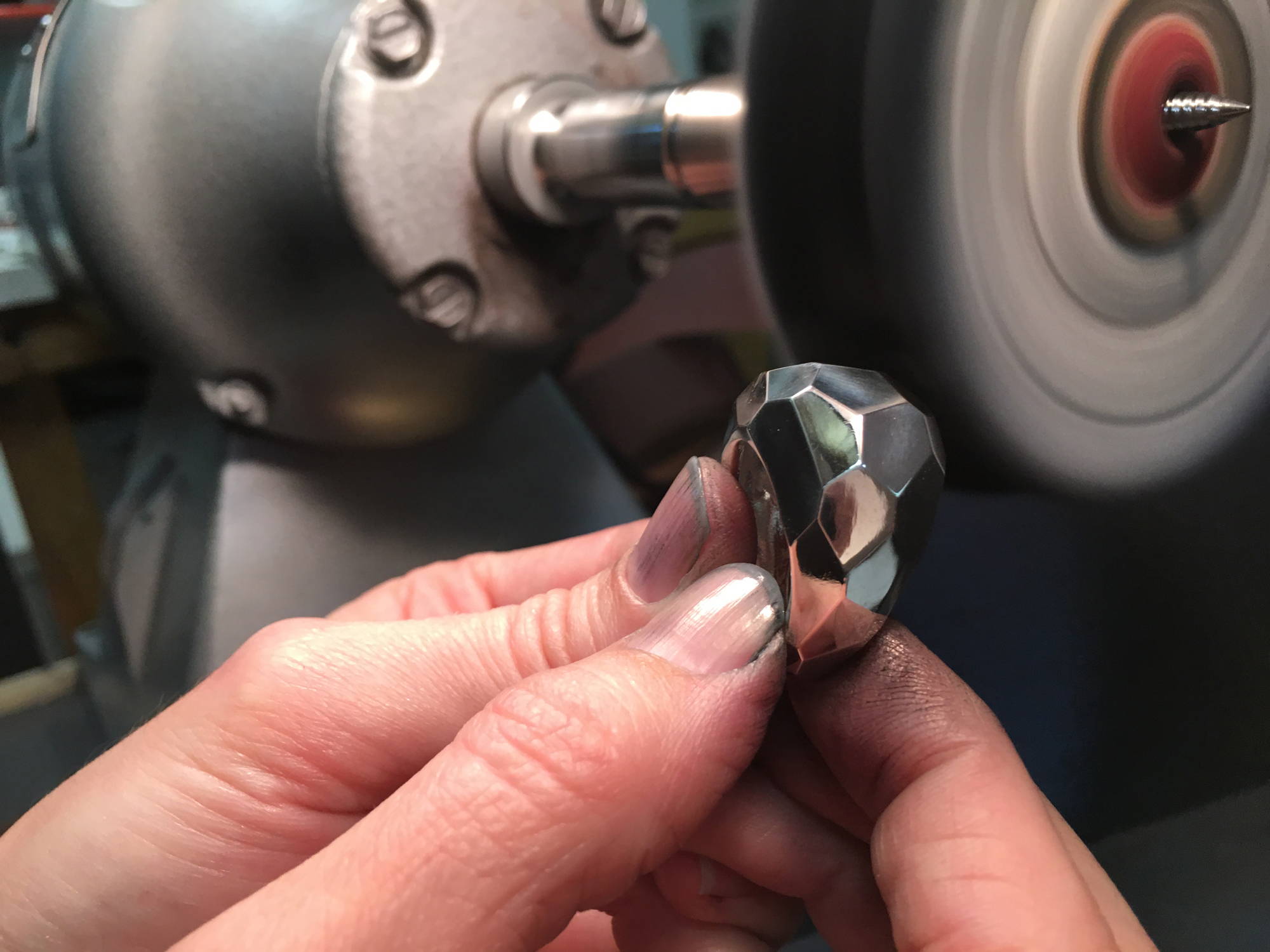 Polishing / Jewellery cleaning 
Flamme en rose has a high level of expertise in jewellery polishing. Entrust us with your rings, bracelets, necklaces or earrings for a polishing and you will find them in the same splendour as when they were new. This service is recommended twice a year to avoid premature wear of the metal. However, it is possible to have your jewellery cleaned as much as you like.
Too often a gold Chain or an heirloom ring is no longer worn for the sole reason that it is broken. Repairs are usually not very expensive and will give a second life to your jewelry that has fallen into oblivion. We can also do small miracles with your broken jewelry with our transformation and recycling service and recycling service. In addition, following a jewelry repair, your jewelry will be cleaned and repolished in its entirety. Come see us for a free estimate!
* Please note that we cannot repair plated or non-precious metal jewellery.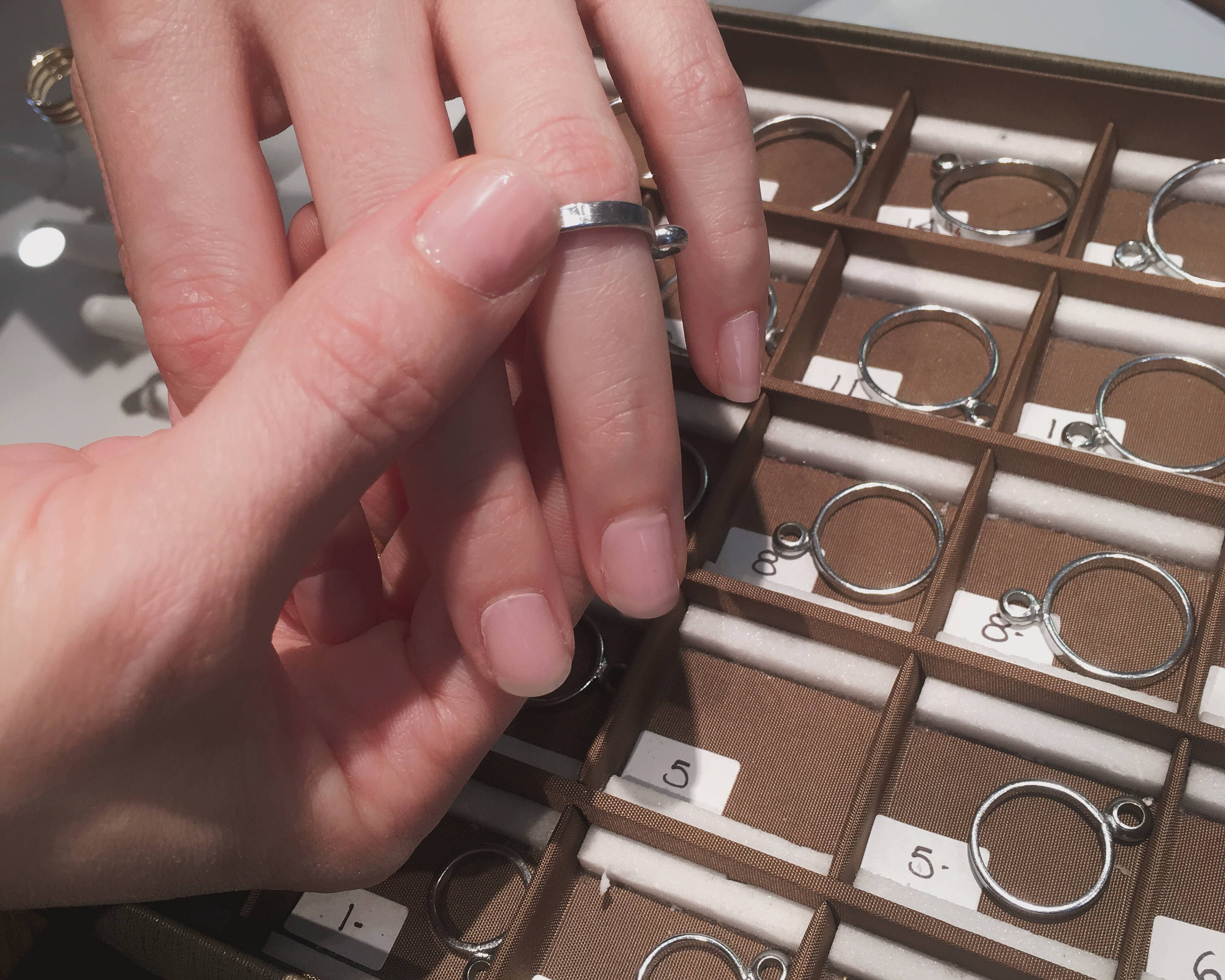 Do not take the risk of losing your jewellery. Flamme en rose has all the qualifications to perform an invisible sizing, which will make your ring fit just right. Have you consulted a jeweller for a sizing and have been refused? Come see Flamme en rose, with their expertise in laser soldering, they can size practically any style of ring.
What better way to immortalize memories than to get them engraved on a precious piece of jewellery. A loved one's name, a special date, either on the inside of a ring or the back of a pendant. Your medical bracelet needs a refresh, when engraving the possibilities are endless.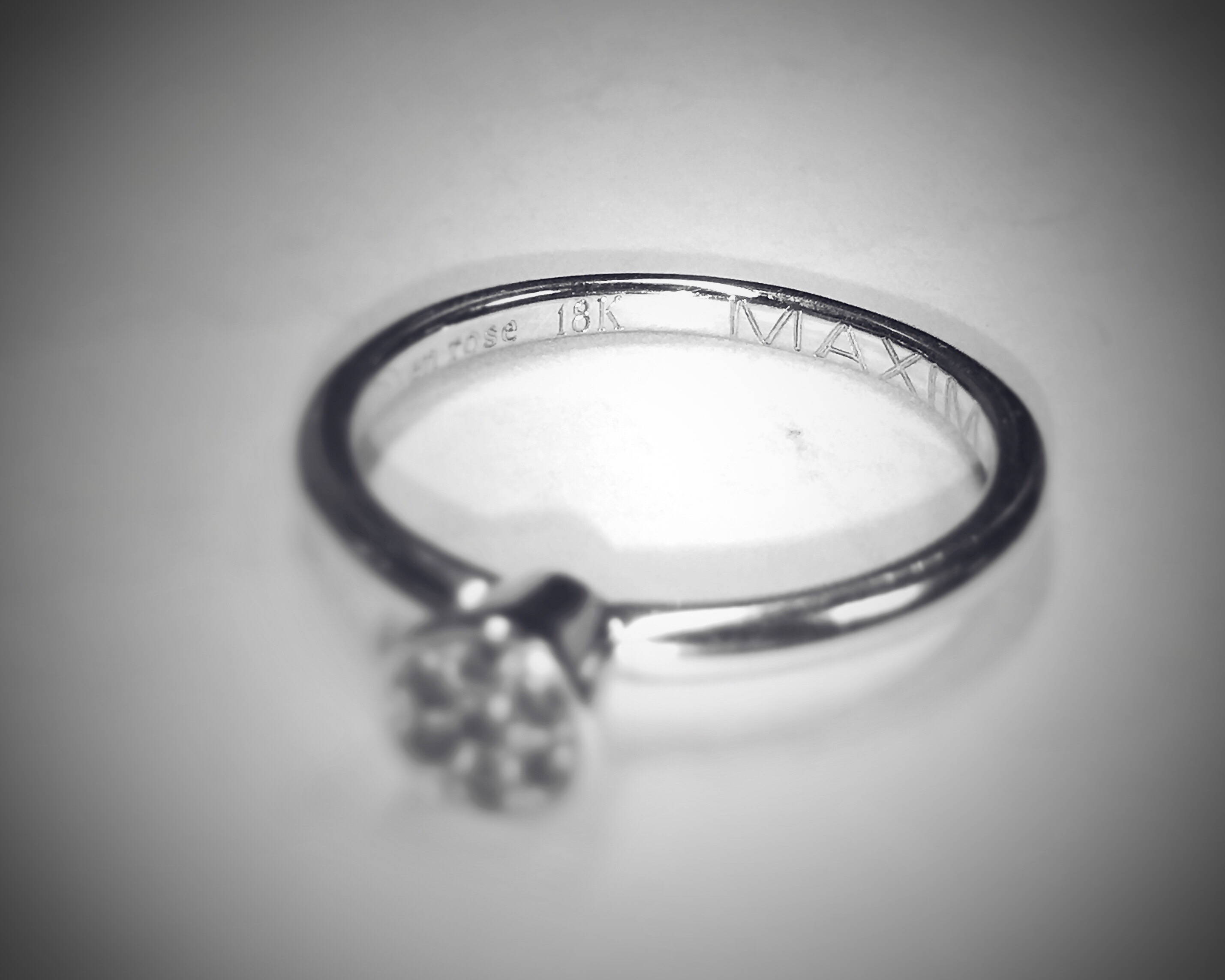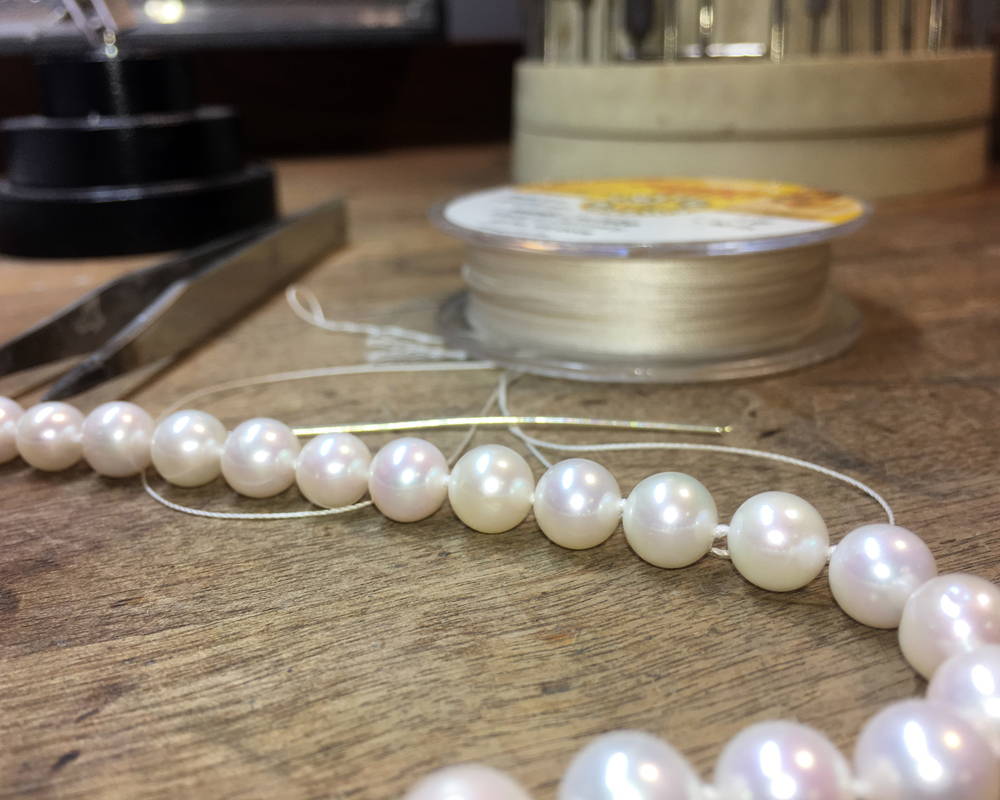 Pearl necklaces are often of great sentimental value. If your mother has recently given you the pearl necklace that she wore at her wedding, it would probably be wise to have it restrung. Traditionally, pearl necklaces are mounted on a pure silk thread. It is quite normal that the thread stretches and wears with time. Flamme en rose offers full restoration services for your pearl bracelets or necklaces. First, your pearls will be cleaned of all traces of perfume and soap to prevent these chemicals from further damaging the pearls, then each pearl will be carefully restrung on a silk thread with knots between each pearl. The knots prevent the pearls from touching, as well as preventing them from falling if the thread brakes. Pearls are timeless, it is very important to take good care of them!
When jewellery, mostly rings, are worn on a daily basis, it is very important to have the claws of your setting verified yearly. At Flamme en rose, expert eyes can judge the condition of your claws and assess the work that needs to be done. Sometimes a simple tightening of the claws is required and other times, each claw needs to be re-tipped (adding metal to the top of the claw that has worn down with time to make sure the stone is safe). In extreme cases, the claws or the entire setting needs to be rebuilt. Following any of these situations, a seasoned setter will make sure that all the stones are safe, sound and straight!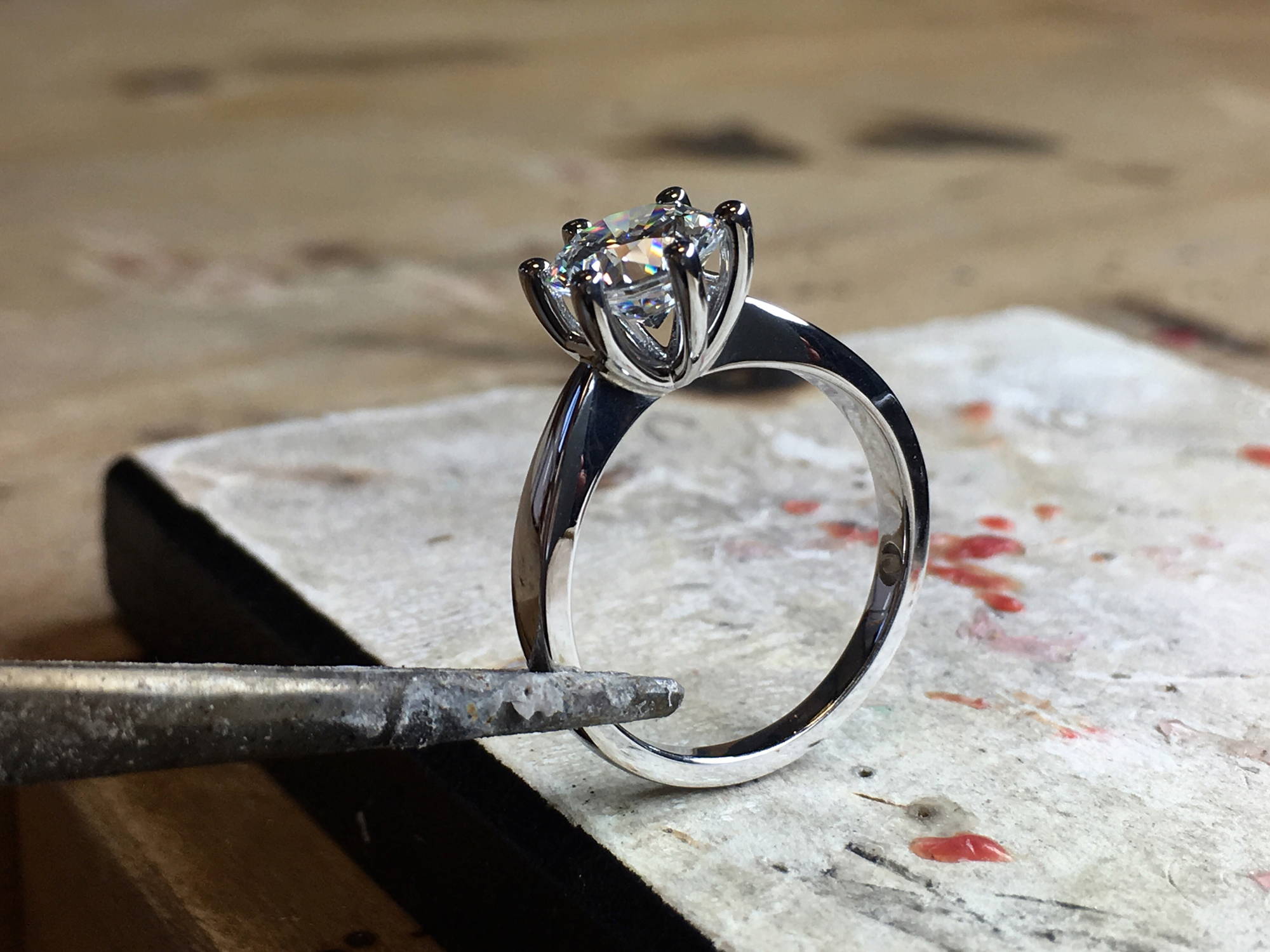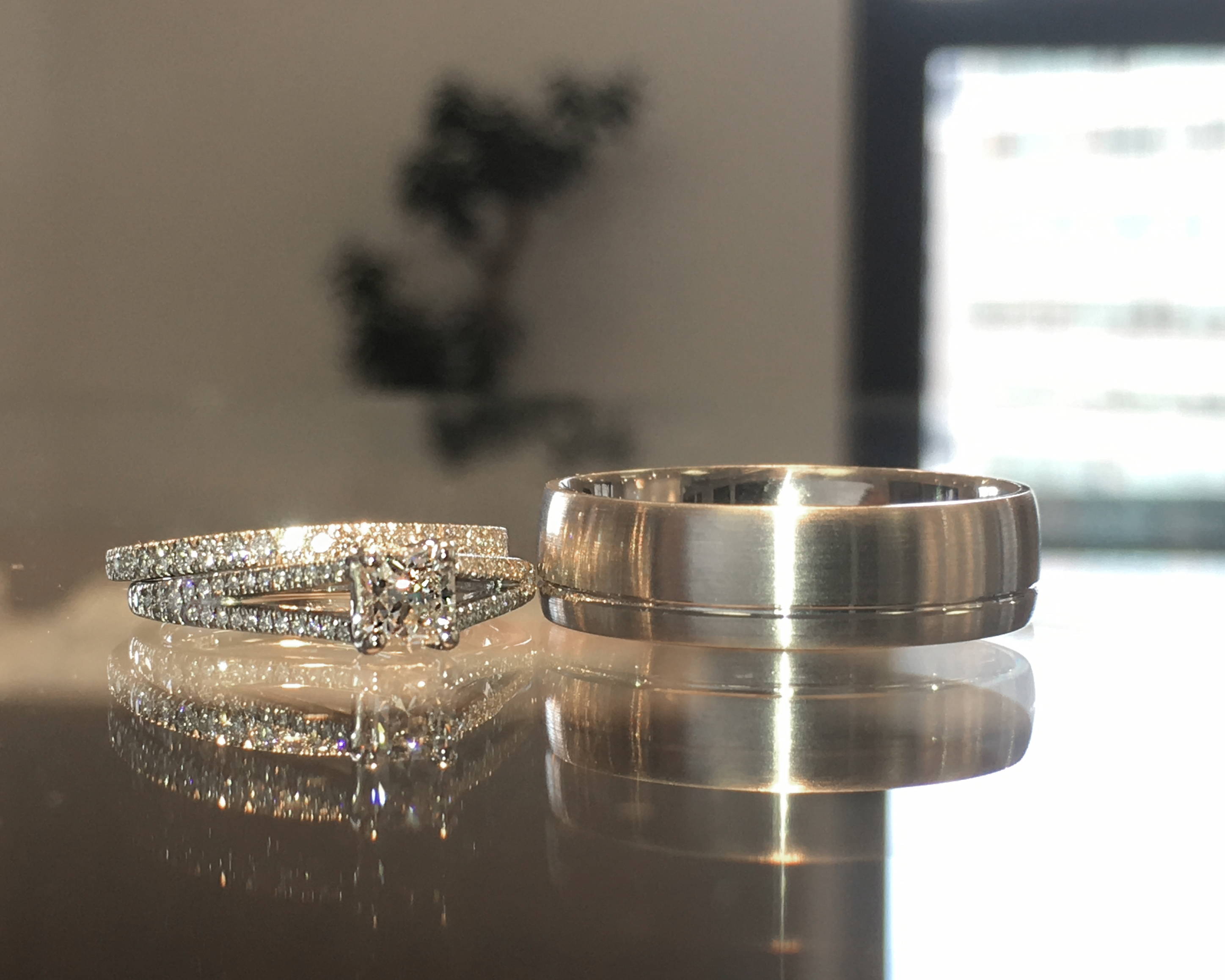 Rhodium is a precious metal that is in the same family as platinum. It is used on a regular basis to plate white gold. White gold, also known as grey gold, is almost always plated rhodium. Although it is a very sought-after color, in its natural state, it sometimes has yellowish or greyish hues. Therefore, plating rhodium is a common practice in order to keep it as white as possible. We suggest re-plating once a year since with time, it is normal that this plating wears off, especially on rings or areas that are exposed to friction. Flamme en rose uses a high-end Italian rhodium plating to guarantee the best results.
Certificate of Jewelry Insurance
In many cases having a certificate of evaluation for your expensive jewellery can save you a lot of time and money in the long run. Whether for your insurance purposes or as proof of authenticity when reselling, the FGA certificate of assessment (Fellow of the Gemological Association of Great Britain) is worth the small investment. Flamme en rose works in partnership with gemologist certified by the FGA who provide you with a highly accurate legal certificate. Flamme en rose will also be happy to have your piece of jewelllery evaluated, even if it was not purchased from them.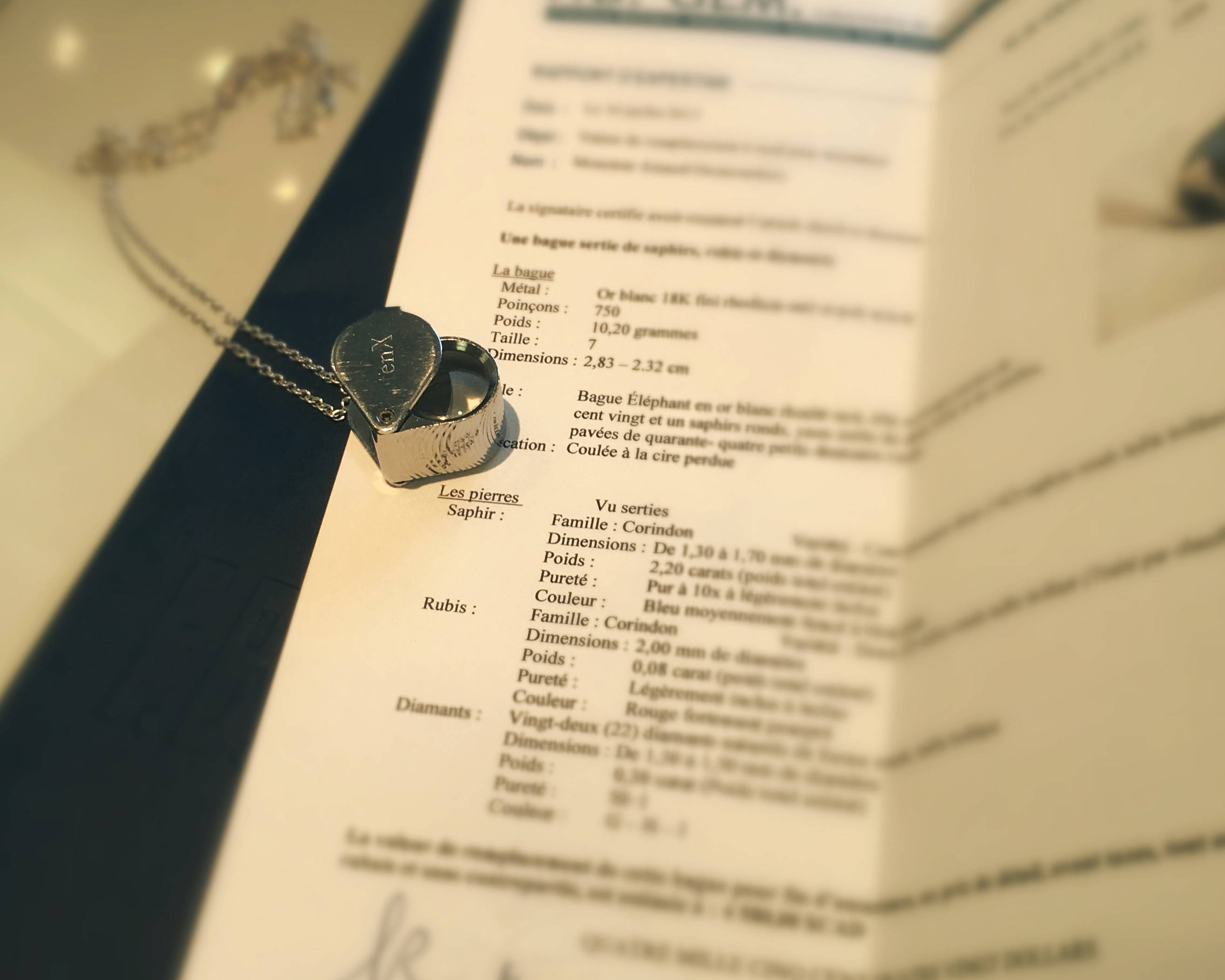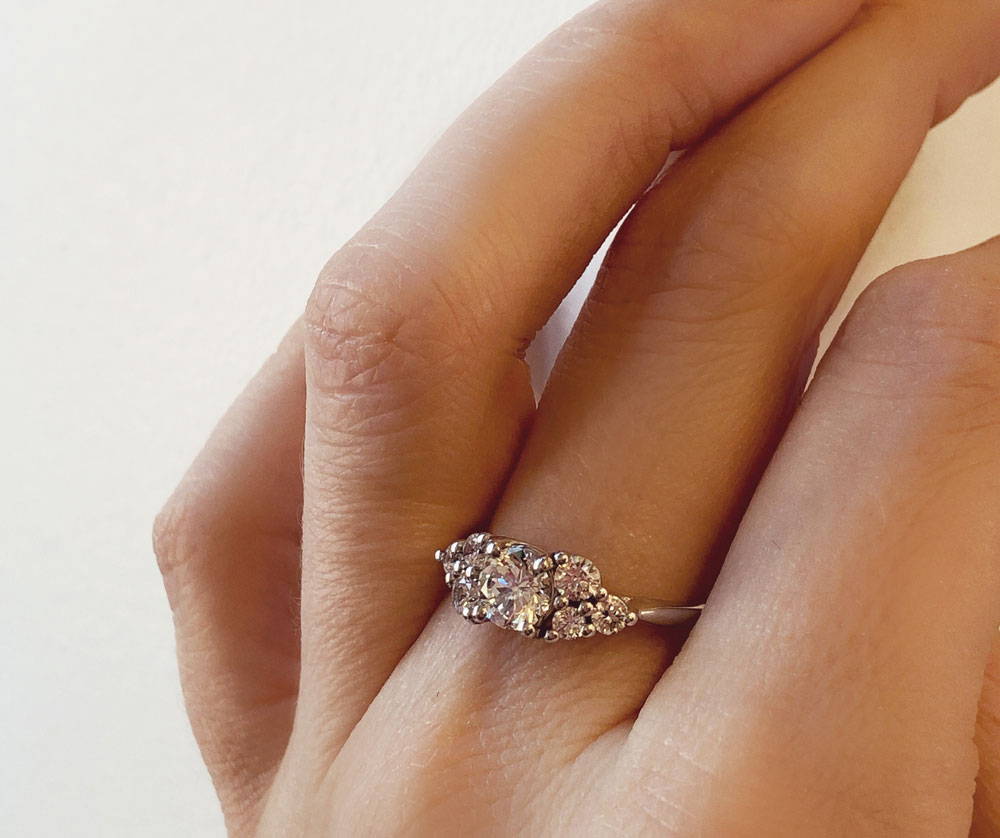 Quotes for the replacement of stolen jewellery
If you unfortunately have your jewellery stolen, your insurer will ask you for detailed proof of replacement with the specificities of each piece insured. With the help of photos or descriptions from you, Flamme en rose will be pleased to provide you with an official quote for your insurance coverage for the replacement of your stolen jewellery. Flamme en rose's official quotes are accepted by all insurance companies. These estimates are free of charge if Flamme en rose is commissioned to recreates the jewellery that was stolen.
Repair and polishing of watches
We offer the following services for your watch:
- Polishing of wristbands
- Battery replacement
- Glass replacement
- Cleaning of the mechanism / refurbishment
- Replacement of parts
The battery replacement service  takes 24 hours.
 Contact us for more details.