What is ecodesign? Another one of those trendy themes to make you look good and feel good about yourself? Maybe for some but not for Flamme en rose. We commit ourselves daily to design jewellery that respects environmental protection and sustainable development standards by avoiding the use of non-renewable resources and promoting the reuse and recycling of materials. This has been a priority since our creation in 2009. It is a value within our company that is just as important as customer service and the quality of our jewellery.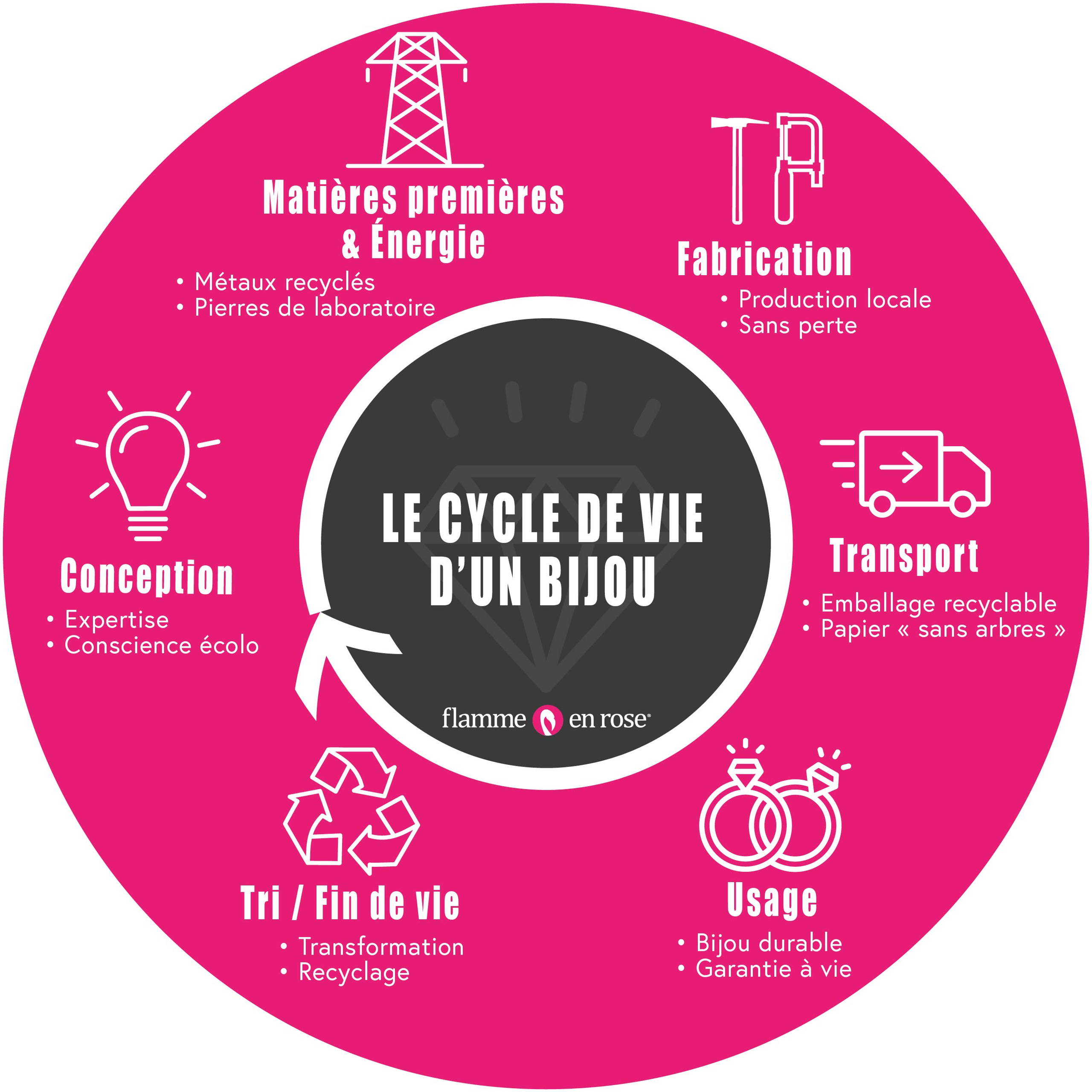 Delicate and playful design.
At Flamme en rose you are always welcomed and advised by professional jewellers. They have the training and expertise to guide you through the many possibilities of creating and transforming jewellery from recycled metals and stones.
The gold we use is recycled and refined by a SCS (Scientific Global Services) certified company and we then produce our own alloys to ensure a high quality metal. We offer laboratory-grown gemstones that are identical in every way to natural stones. Their production causes less damage to the environment since it uses less water and does not require any polluting excavation that disfigures the landscape.

All our jewellery is made in our Montreal workshop. 90% of our suppliers reside in the same building as us. No raw material is lost since it is recycled or reused. Our display boxes can be brought back to the store and we offer all our customers the possibility to reuse the same one instead of a new one. 

We use recyclable shipping packaging and our invoices are printed on "tree-free" paper made from sugar cane. The location of our company allows all our employees to take public transportation to work.

Our high end manufacturing techniques and the quality of our raw materials guarantee the durability of all our jewelry. We offer a free refurbishment on all our creations. We recommend that you visit us every year to have your jewelry checked and cleaned. This annual visit allows us to honor our policy of lifetime warranty.

Nothing gets lost. Nothing is created. Everything is transformed. A quality piece of jewellery may no longer be to your taste, but its metals and precious stones can be recycled to infinity. Flamme en rose is the reference in Montreal when it comes to jewellery transformation and eco-design.